&nbsp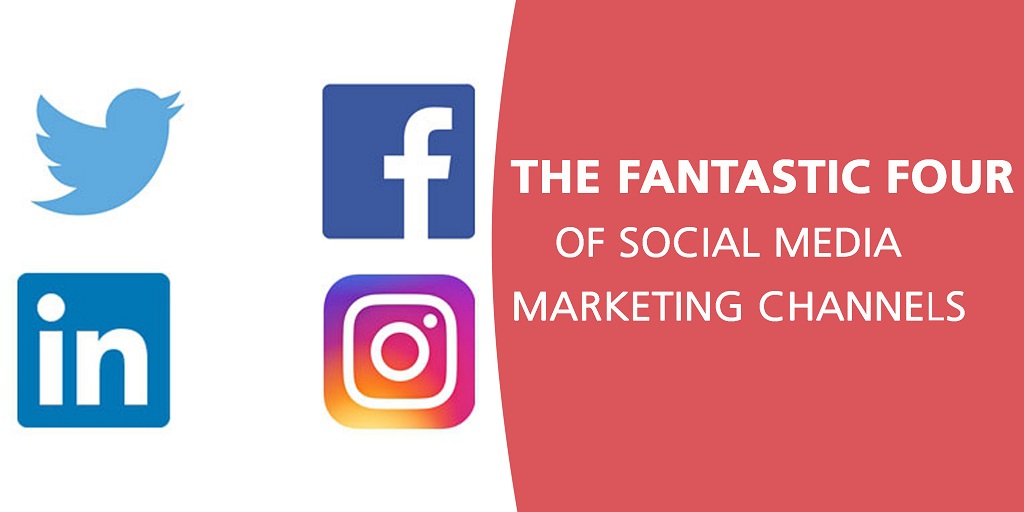 The Fantastic Four of Social Media Marketing Channels
Have you watched the movie 'Fantastic Four'? The movie where each protagonist acquires some special powers during their journey to space. If yes, then you can compare those superpowers with the super cool features of these four social media platforms that are widely adopted by companies for reaching out to their target audience at a relatively low cost. There are multiple social media channels out there with each having its own share of advantage.
Here is the list of those four social media channels that your business can use to engage your audience:
Facebook:
Facebook has the biggest online user base and the most diverse set of users. Being one of the most effective social media marketing platforms, it has identified and grouped its users on the basis of their interests. It helps you to reach out to your target audience by sharing company updates. Facebook Adverts help you to appear on a specific segment of audiences' newsfeeds in the form of ads. Analyze the data of ad results while running a campaign. Going live on video is a feature that has been launched recently to interact with your followers, to engage them and keep them hooked. Keep your followers updated with your offerings and retain them with these features.
Instagram:
Instagram's option to edit and add filters in videos and images makes it different from its competitors. Instagram posts go viral with the use of hashtags and catchy captions. Unique hashtags increase the discoverability and popularity of these posts. Another trend that has caught onto Instagram is Influencer Marketing. These influencers can be celebrities or users with a large number of followers. They advertise brands and products, by posting images and videos featuring your business. Instagram is an excellent platform for brands who regularly post visually appealing content and engage their customers in the form of giveaway or prize-winning competitions.
Twitter:
Twitter is popular for its minimal length tweet that is restricted to a maximum of 140 characters posted along with images, videos or links. Twitter started the concept of hashtags with which tweets go viral. Content posted and shared on Twitter is more often newsworthy, and therefore, end up trending through hashtags. Users can retweet or respond to the tweets. You can also go for paid promotions and sponsored tweets. Tweets require minimal effort to be posted and enable you to share interesting content. Twitter is the most efficient platform to handle customer service updates, to hold polls, or to provide updates to your users.
LinkedIn:
LinkedIn is the perfect platform to grow your career or to have a conversation with other professionals in your niche. Its objective is to build connections and the ability to reach out to a large group of users in various professions. It is an effective platform mainly for B2B marketing and therefore, it is great for promoting your brand's objectives and to establish partnerships or sponsorships. Keep your page updated with relevant content to engage with your followers. To go viral, you can choose to sponsor your popular content in the form of ads to reach your target audience segments. Another added advantage is its opportunity to utilize the analytics behavioral with which you can track and observe their consumer's behaviour and preferences.
Social media marketing delivers the most effective results in this age of digital marketing. Each of the above-mentioned platforms has the ability to feature content in different formats, allowing instant customer engagement. Additionally, they result in increased customer satisfaction, sales, and overall brand exposure.