&nbsp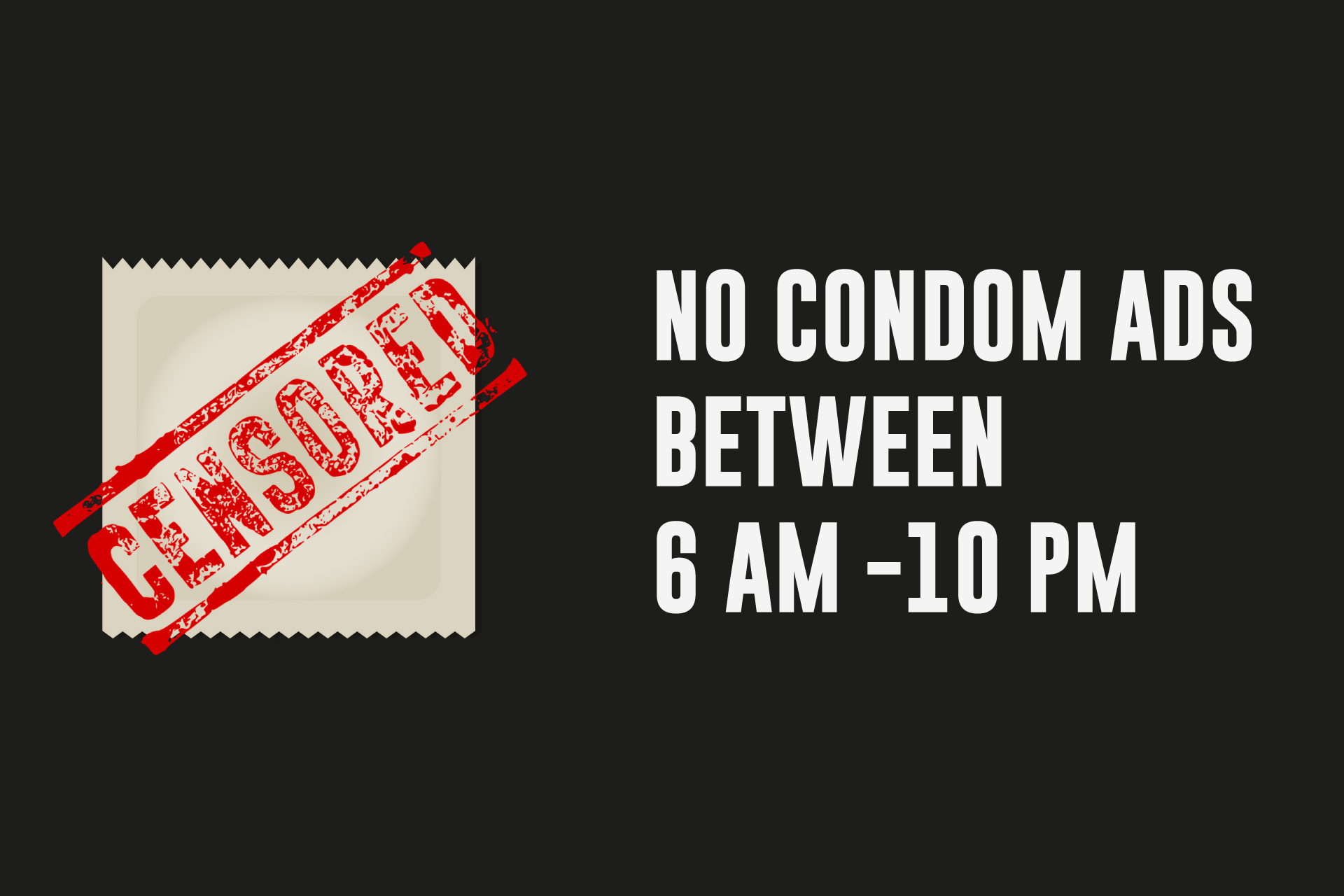 No Condom Ads between 6 am -10 pm
Recently, the Ministry of Information and Broadcasting of India banned condom ads and ordered 900 TV channels to play them post prime hours i.e. only between 10 pm and 6 am. The debate is still a hot potato and the condom manufacturing companies will definitely feel the heat as this could devour their market and brand.
"All TV channels are hereby advised not to telecast the advertisements of condoms which are (a) for particular age group and could be indecent for viewing by children," the official order by I&B Ministry of India.
The Advertising Standards Council of India (ASCI) got bombarded by a large number of complaints about explicit content being broadcast under the banner of educational advertisements which propelled the Indian government to step forward and deal with such risqué commercials.
One of the most sensational advertisements features Sunny Leone, a former actress in X-rated videos. Even Bipasha Basu featuring in a condom ad attracted criticism on social media.
While some believe that this ban is legit and necessary, a majority of people think that instead of banning the ads in the prime time, the content must be revamped.  Today's young generation feels, "If you're putting a ban on it, then there must be something in it and we'll have to see it" and this psychology will entice rather than forestall them.
India is expected to surpass China's population in the coming years and it will be on the first spot on population index. With just 6% of condom usage as a contraceptive in India compared to 30% in European countries, it desperately needs such ads but with a good concept. According to a recent report, one in 3 pregnancies in India ends in Abortion, which is why contraceptive ads must be aired to educate youngsters.
Poonam Muttreja, the executive director of the Population Foundation of India said, "We need to reach out to more people with more and more advertising, not less,". ''Condoms are one of the few methods of birth control which prevent H.I.V. and unwanted pregnancies. And they have no side effects."
Contraceptive and Condom Ads were there for a long time. We grew up watching the Nirodh Ads where the content was legit; the ads were more focused on educating than enticing intimacy and vulgar scenes. As a matter of fact, every commercial passes through the Censor Board of India before hitting the channels. If they deem it wise for every age group, then the government shouldn't jump in like a super nanny.
If you analyze thoroughly, you will find that not only the condom ads became bold with time but even Deodorant ads used salacious contents to lure more customers. So, in my opinion, emotions shouldn't be the prime factor behind the ban but the evidence and facts.
The Alternate Way
Now that the ads can't be aired, the condom manufacturing companies will have to find an alternate way to find the right audience. Online media is, of course, the most suitable, authentic and cost-effective channel to generate revenue and brand awareness.
Even in the past, these companies have used digital channels to create a buzz. Durex with its #DoTheRex campaign fostered over 200 million Impressions and received positive reactions on Twitter and other social media channels.
https://www.youtube.com/watch?v=T1qEnquUFjw&feature=youtu.be
To conclude, I can only say that the digital marketing agencies will now get a bigger share of the ad budget. Why turn to the TV when there's an open and giant source to reach every single person in the world.
Now, it's just a wait and watch policy.